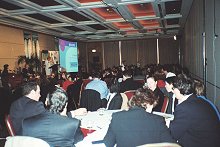 To Order a copy of any book & CD, go to the home page and click on "order books". Payment can be made securely online by credit card via St George bank gateway, or you can request an invoice or arrange to pay by electronic transfer if your business is in Australia. All profits go to Animal and children's charities.
For further information, or to register your interest for news closer to publication dates, please contact julia@knowledgesolutions.com.au
Ask The Guru
Got a technical question, or want to know what something means or want to know the best resources around? Then Ask the Guru, for free advice by using the contact form. A prompt response assured.
The Marketing Practitioner's Guide to Shopping Centre Marketing.
Published March 2006. Having worked in the shopping centre industry for Coles Myer and Colonial First State, Julia was dismayed to learn that there was a "sea of sameness" in the advertising and promotions across many shopping centres and that strategic marketing was not always taken seriously. The realities of the industry in balancing the needs of the centre owners, the management team, retailers, customers and their community made for some areas of conflict and tension that had to be overcome for success to happen. A practical book covering the realities of working in such a dynamic industry plus basic marketing principles explained leading to practical application for marketing shopping centres is a must read for those in marketing, or managing a marketing team in a shopping centre environment. Other retail space outlets such as airports, hotels, museums etc will find many of the tools and modes of thinking invaluable.
The Research Practitioner's Guide to Research Consulting - August 2009
Extensive breadth of topics
Too many to list here so you may want to check the contents section. Just a few tasters….The realities of the research industry and profession; client engagement; resistance is it really futile; shifting sands of client relations; strategy development; Google trash or treasure?; Web 2.0 to 4.0; getting productive with Web 2.0 work and research tools; online surveys – the truth is out there; fads or here to stay – semiotics and ethnographic research; fieldwork foibles; pitching for work; what you really need to know about proposals; effective project management; case studies and key tips on being an independent consultant researcher.
Destination Marketing: A practical manual for city and town centre marketing.
To be published. Many projects Julia has worked on with her clients have involved the attempt to market a region or a town/city centre. As a consultant, Julia noticed there were many commonalities between those clients and has documented the approach she saw made the most difference in revitalising business for those areas.
Free Articles
These are a few of the articles written by Julia, Click to download.
Collins, G. (2006). No Hard Hats and Other Blunt Objects. Marketing Matters. 14: 16-21.
Zivanovic, J. (2006). Building Communities: Meeting Expectations on Revitalisation Projects. Western Councillor. August/September 2006: 12-14.
Zivanovic, J. (2006). Leverage Your Levy. Sydney Australia, Inside Retailing. 2006: Article on how retailers can maximise benefits from the marketing levy paid to shopping centre managers.